CLICK ON ARROW TO OPEN MENU

Join Africa's longest running wild dolphin swim program for a purposeful holiday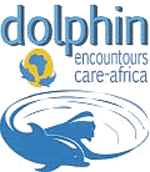 For More Info
Jays Beach Lodge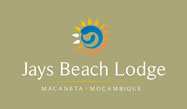 for more info
SUNSET BEACH RESORT
Chidenguele

FOR MORE INFO
Find out about Mozambique accommodation, from exclusive 5 star luxury accommodation, to Budget beach camping ccommodation. Take a look at information about Mozambique dive sites, Mozambique scuba diving, Mozambique fishing and a wide variety of things to do and places to see.
There is a Mozambique businesses directory for Maputo businesses. Find information about Ponto do Ouro, Ponta Malongane, Ponta Mamoli, Maputo Bay and Inhaca, Xai-Xai, Ponto Zavora, Inhambane,Jangamo, Tofo, Bamboozi, Barra, Coconut Bay, Bazaruto, Vilanculos, Bilene as well as historical light houses and various historical details about the history of Mozambique and Maputo.
THE PROVINCES OF MOZAMBIQUE
| | |
| --- | --- |
| | Accommodation between Xai Xai and Chidenguele |
Your first website with all the information that you need for Mozambique Accommodation,Mozambique Information on tourism, and Business in Mozambique!
Mozambique, being a sought-after tourist and Holiday destination, offers a huge variety of accommodation in Mozambique, ranging from 5 star Holiday Resorts to Self catering cabins and backpackers - something to suit everyone's pocket.
For the best Mozambique accommodation, take a browse through our Mozambique accommodation section for the wide variety in different towns :
MAPUTO - THE CAPITAL OF MOZAMBIQUE
This is the capital city of Mozambique with a population of about two million people and a large harbour.
For further history of Maputo go Maputo Bay and Surrounds.

Under Portuguese influence, Lourenco Marques became one of Africa's most beautiful and fashionable cities with a cosmopolitan continental atmosphere, pavement cafes, and a thriving tourist industry.The famous Polana Hotel ....

BAZARUTO
This is the most popular tourist destination in Mozambique and it includes the islands of:-
Bazaruto - roughly 37 km's long and 7kms at it's widest.Benguerra Island is approximately 11km in length and 5,5km wide and was originally named "Santa Antonio" by Portuguese explorers and was later named "Benguerra" after a local Tribal chief.....

INHAMBANE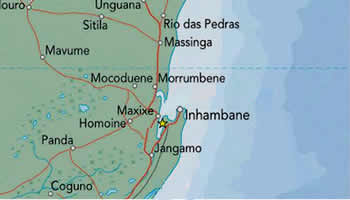 History and legends indicate that in the year 1498, the great navigator Vasco da Gama anchored his four ships off the Inhambane Bay while on his way to India.
Vasco da Gama's men went to the nearby settlement during a period of bad weather and came across people who spoke "Bitonga".

ILHA DE MOCAMBIQUE
Mozambique Island (Ilha de Mocambique), is only two and a half kms wide and one and a half kms long.
It lies just over 3 kms off the mainland to which it is connected by a bridge. Mozambique Island has been declared a UNESCO heritage site and is the oldest European settlement in East Africa.

PEMBA & THE QUERIMBA ARCHIPELAGO
Lies within Cabo Del Gado Province and consists of 32 coral islands stretching from the Rovuma River in the north, which forms the natural frontier between Tanzania and Mozambique to Pemba in the south. The area has never really been developed and remains an unexploited tourist paradise....
Most visitors fly in to Pemba and there are 3 flights a week from Maputo. Flights are generally fully booked so forward planning is essential to prevent disappointment. ...

PONTA DO OURA
Ponta de Ouro (The Point of Gold), is the southern most resort on the Mozambican coast. The easiest entry is through Kosi Bay border post and Ponta de Ouro is 15kms from the border. There are numerous dive sites and coral reefs. This is a tourist destination ...

XAI XAI
Xai-Xai, formerly João Belo, developed in the early 1900s, under Portuguese rule, as a companion port to Lourenço Marques (currently Maputo), though its economic significance was never on par with Mozambique's largest city.Before independence ...

ZAVORA
Zavora is a small coastal resort, north east of Maputo in Mozambique, in the district of Inharrime, province of Inhambane. From Maputo, the capital of Mozambique, you drive almost 420km in a north eastern direction to get to Zavora. It is located 27km away from the town of Inharrime...

MOZAMBIQUE FACTUAL INFO
CAPITAL CITY: MAPUTO.
PRESIDENT:- Filipe Nyusi
PRIME MINISTER :- Carlos Agostinho do Rosario

LAND AREA ;799,380 square kms

Mozambique has 11 provinces,including Maputo City which has the status of a province.
They are as follows with their capitals in brackets;
Southern Mozambique-Maputo (Maputo City)
Gaza (Xai Xai)
Inhambane (Inhambane)
Central Mozambique-Sofala (Beira)
Manica (Chimoio)
Tete (Tete)
Northern Mozambique-Zambesia (Quelimane)
Nampula (Nampula)
Niassa (Lichinga) - this is the largest province of Mozambique
Cabo Delgado (Pemba).
NATIONAL HOLIDAYS
Businesses are closed on the following Mozambican holidays.
New Year's Day--January 1
Mozambican Heroes Day--February 3
Mozambican Women's Day--April 7
Workers Day--May 1
Independence Day--June 25
Lusaka Agreement--September 7
Armed Forces Day--September 25
Family Day/Christmas Day--December 25
ACCOMMODATION
Mozambique has a wide range of accommodation to offer from budget B & B accommodation to up-market B&B's. Luxury hotel accommodation, holiday resorts, camping and self catering accommodation offers a wide variety for the tourist to Mozambique.
Not to be ignored are also Casino, business and conferences venues - and any other lodging you care to think about!
This is the ideal island for a romantic beach wedding - or just a family holiday venue with sea, sun and sand.
One of Southern Africa's major tourist destinations is Mozambique.
The Mozambique tourist travel industry is recovering and gaining it's rightful place as a prime tourist destination in South Eastern Africa, for tourists traveling and enjoying the pleasures of scuba diving sites, snorkeling, fishing,surfing and game fishing along this magnificent coastline, which stretches more than 2500 km's. See Lighthouses

This is where SCUBA DIVING ,snorkeling on coral reefs, deep sea fishing, shore fishing, surf fly fishing, surfing and kite surfing, enjoying the many dive sites, as well as soaking up sun filled beaches of white sands, are enjoyed as major tourist attractions. There are many dive schools and dive resorts to be found in Mozambique.
For the ultimate in scuba diving adventures, one can try: shark diving and wreck diving holidays, tropical reef diving, diving with the Great White shark and other shark species as well as with manta and eagle rays, whales, whale sharks, dolphins and turtles. Mozambique is unequalled. Mozambique is a prime tourist and travel destination in South Eastern Africa, for tourists enjoying the pleasures of scuba diving sites, snorkeling, fishing,surfing and game fishing along this magnificent coastline, which stretches more than 2500 km's. The coastline of Mozambique is a legendary tourist destinations making the Mozambique Coast the number one "Coastal holiday destination" for so many tourists.
Mozambique's sandy beaches, fringed with coconut palms, quite rightly regarded by tourists as some of the most beautiful beach resorts on the South Eastern Seaboard of Africa. Travel the coastline, from the Northern Quirimbas Archipelago south to the Bazaruto Archipelago,to Inhambane down to Inhaca and Ponta do Ouro, have legendary tourist destinations that make the Mozambique Coast the number one "Coastal holiday destination" for so many tourists and travelers.
The Querimbas Archipelago
The Querimbas Archipelago is the northern-most archipelago stretching from Palma near the the Tanzanian border at the mouth of the Rovuma River south to Pemba.
There is a chain of 32 coral islands forming this archipelago.

The southern eleven islands plus a portion of the mainland coastal forest and 1500 square kilometres of marine area form the Querimbas National Park.
This Park was formed in 2002 and has wild game on it as well as giving refuge to marine life like turtles, dugongs, dolphins and humpback whales.


The old fortresses on Ibo Island offer an insight into the historical world of slavery, ivory and pirates. There is a water taxi to Ibo Island
CLICK TO ENLARGE MAP
The Bazaruto Archipelago is without doubt the most popular and consists of four main islands, Bazaruto, Benguerra, Magaruque and the small island of Santa Carolina (Paradise Island). These islands lie about 20 - 35 kms off the coast from the town of Vilanculos and are only accessible by boat or by light aircraft.


The full range of water sports, like, scuba diving, skin diving,water skiing, all types of fishing from big game to surf fly fishing, swimming, or just soaking up the sun and relaxing can be enjoyed at the various resorts.


Island wildlife consists of fresh water crocodiles, samango monkeys some species of antelope and 180 species of birdlife.

Marine life includes Manta Rays, Dugongs (threatened with extinction), whales, turtles and dolphins and more than 2000 species of fish, including the largest fish, the whale shark.
NEW ENTRIES!
CHECK THESE OUT!
Click on Photos for more info
BOOKINGS?
Save yourself the hassles.
Let Africa Bookings do the hard work for you!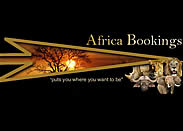 Contact Naomi
+27 13 7457187
Email :
www.africabookings.co.za
HIGHLY RECOMMENDED