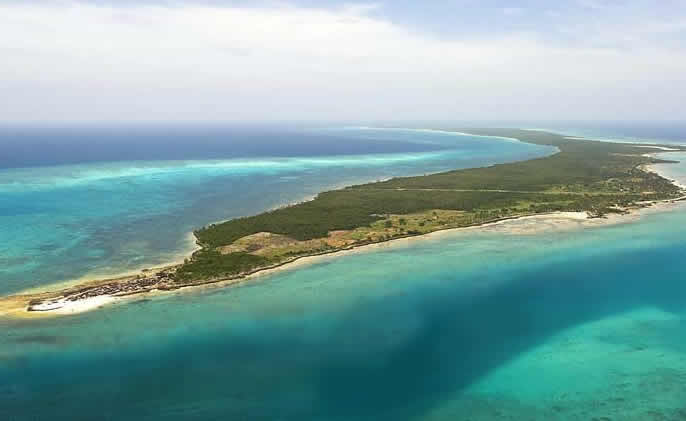 Querimba Island
Originally home to fishing settlements, the islands' population grew around Arab trading posts and thrived under the Portuguese trading routes when it was known as the Ilhas de Sao Lazaro (Islands of St. Lazarus) during the 10th century.
Arab merchants fled to other parts of the island to operate in when the Portuguese started occupying cities in the islands such as Ibo, The Arab merchants refused to trade with the Portuguese, in which started an attack resulting in 60 Muslim merchants casualties and property being burnt down.
The island was in control by the Portuguese until Mozambique gained independence in 1975. Before independence, only four of the 32 islands were inhabited.
Today, many of the islands are inhabited. On May 23, 2014, a mudspill was reported off shore near the Quirimbas Islands which was caused by a drilling rig operated by Anadarko Petroleum Corporation.
These islands are known for their diving sites, some up to 400 meters. The Quirimbas National Park, spanning an area of 7,500 square kilometres (2,900 sq mi), includes the 11 most southerly islands, which are partly surrounded by mangroves. The park was established in 2002 as a protected area.
http://en.wikipedia.org/wiki/Quirimbas_Islands
QUERIMBA ARCHIPELAGO;
There are over 30 islands that form the Querimba Archipelago.
This archipelago stretches 250 km's from Ilha Tecomaji in the
Baia de Tungwe in the north to Ilha Quipaco in the south.
BORDER CROSSING / ROVUMA RIVER
The only border crossing from Tanzania that can be used by vehicles is at Namuiranga/ Mwambo where you cross the Rovuma River.
This border post is open from 06h00 - 18h00 and it can only take a maximum of 10 tonnes at high tide.